BetaFPV BT2.0 1S Lipo LiHV Charger Board
Multirotors
→
Tinywhoops
→
TinyWhoop Batteries
→
Tinywhoop Chargers
→ BetaFPV BT2.0 1S Lipo LiHV Charger Board
Compact, versatile and powerful, the BETAFPV BT2.0 1S Lipo LiHV Charger Board is among the most popular pilot tools. This charger board is customized for batteries with a BT2.0 connector.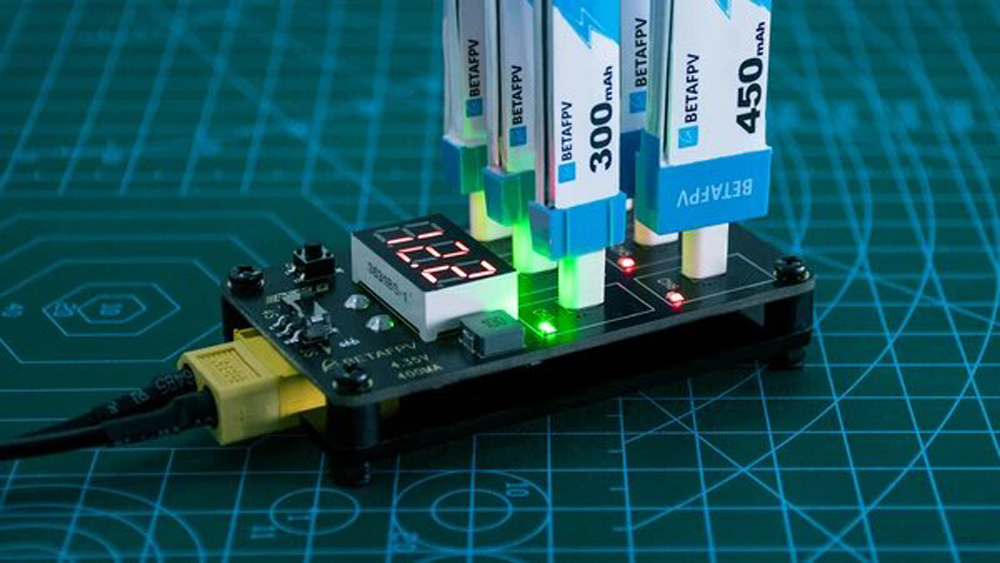 Features
Allow charging 6pcs BT2.0 Connector batteries at the same time, Individual charging per ports, not parallel
You could also use XT60 adapter or 3s/4s battery(XT60 Input) as supply power so you can continuously charge
Turns itself off when supply battery reaches safe low-voltage. 2 channels BEC for supply current
LED lights indicate when each battery is done charging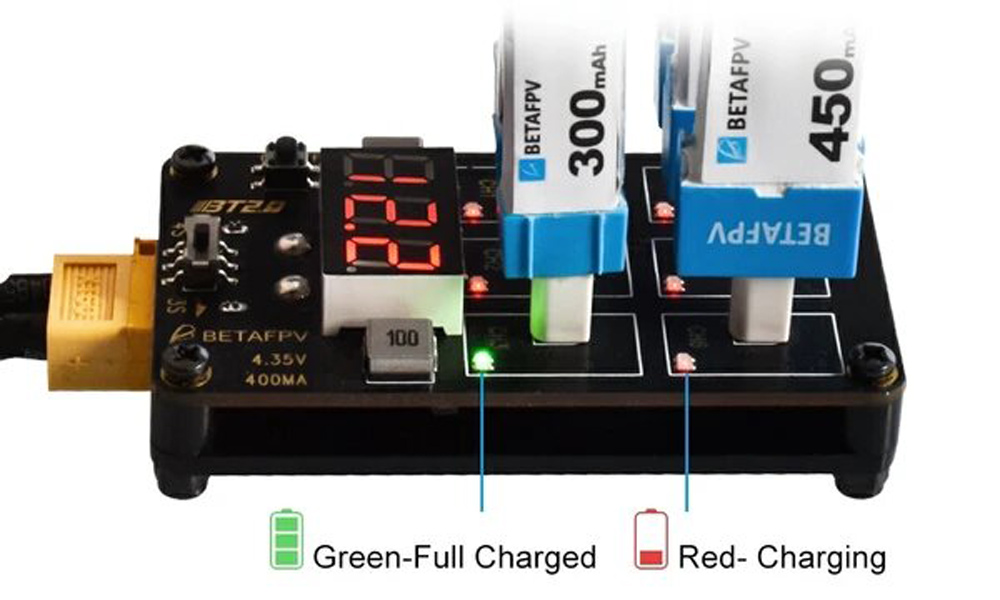 Note: If you plug a battery with an XT60 connector, you will need to switch the setting to the corresponding input voltage. 3S battery-- 3S button, 4S battery-- 4S button. If you do not switch to the appropriate setting, your battery will not charge.
Specifications
Weight: 36.86g
​Dimensions: 75x42x22mm
​Input: 3s - 4s Selectable
Cutoff Voltage: 10.8v (3s), 14.4v (4s)
Output: Fixed at approx 400 milliamps
4.20v cell charging cutoff for Lipo battery (+- 0.5% margin of error)
4.35v cell charging cutoff for HV Lipo battery (+- 0.5% margin of error)
Optional AC Wall Adapter
Includes
1 x BT2.0 Connector 1S Lipo Charger Board
Share
Prices for BetaFPV BT2.0 1S Lipo LiHV Charger Board in stores
Deals found: 8 (BetaFPV4, AliExpress2, GetFPV1, AMainHobbies1)
BETAFPV BT2.0 1S Lipo LiHV Charger Board

GetFPV

$19

Warehouse: US 🇺🇸Compact, versatile and powerful, the BETAFPV BT2.0 1S Lipo LiHV Charger Board is among the most popular pilot tools. This charger board is customized for batteries with a BT2.0 connector.[...]
See also

Tinywhoop Chargers